Locate a Member
Enter the first part of a member's last name to search
New Member Registration
Contact Information
National Office
12635 E. Montview Blvd., Suite 270
Aurora, CO 80045
P: (720) 859-4149
F: (720) 859-4158
E: info@alphaomegaalpha.org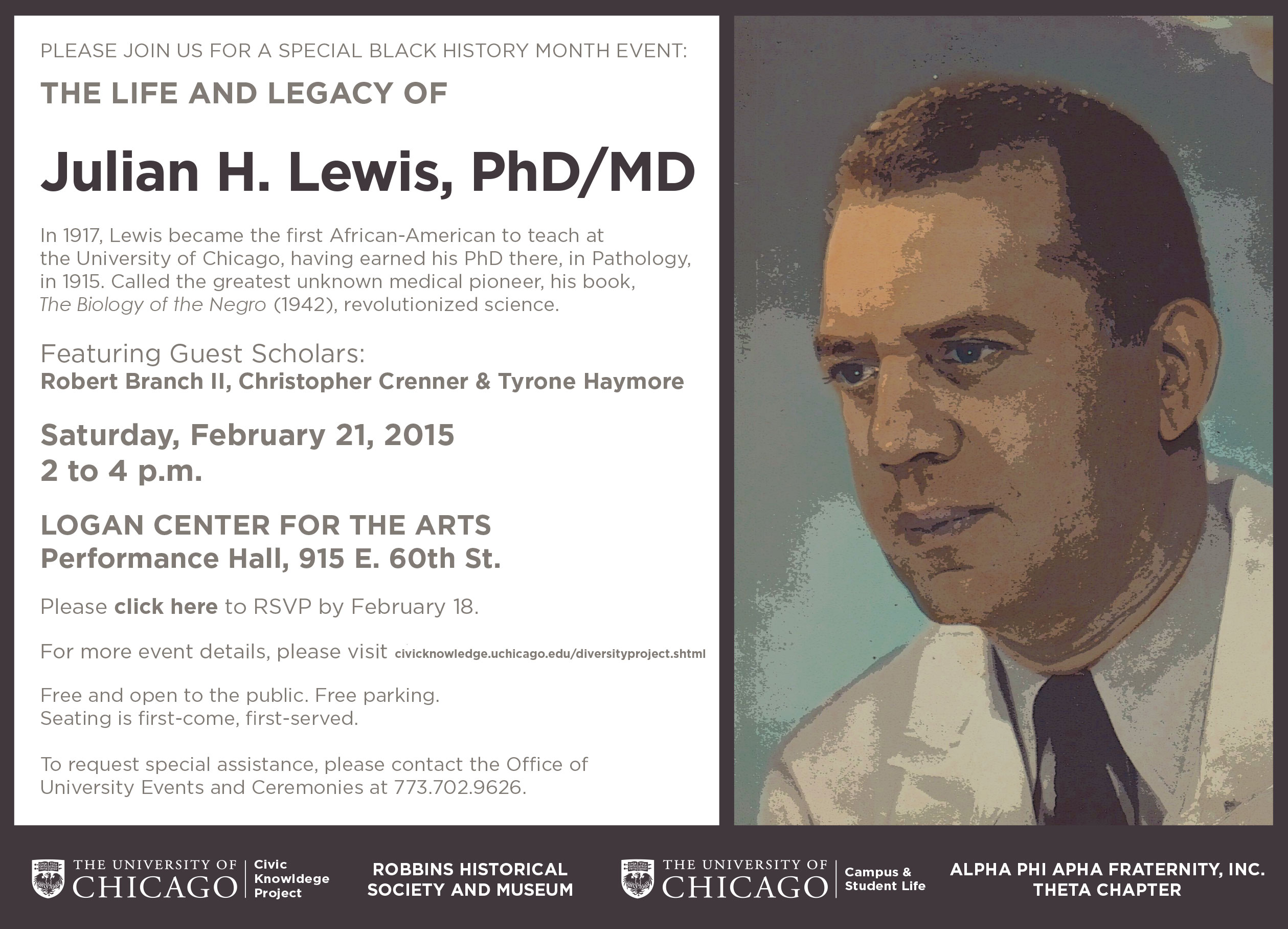 ---
"The Life and Legacy of Julian H. Lewis"
Saturday, Feb. 21, 2015, 2-4 p.m.
University of Chicago
Reva and David Logan Center for the Arts
915 East 60th St.


---
Julian H. Lewis, MD, PhD (AΩA, University of Chicago, 1917)
Dr. Julian Herman Lewis (AΩA, University of Chicago, 1917) will be honored this Saturday, February 21, 2015, at the University of Chicago, at an event titled, "The Life and Legacy of Julian H. Lewis." This event will highlight his astonishing accomplishments—from his distinction as being the first African American in the world to hold both an M.D. and a PhD, to his groundbreaking research on race and blood typing that led to his equally groundbreaking book, Biology of the Negro in 1942. "It was the first book of its kind to objectively use science to dispel the myth of a superior race," says research scholar Robert L. Branch II, who will speak at the event. "It literally changed people's perspectives on race."
Born in Cairo, Illinois in 1891, Lewis was the son of two educators who escaped from slavery. In 1915, he earned his PhD in physiology and pathology from the University of Chicago, and in 1917, in his final year of medical school, completing his clinical instruction at Rush University, Dr. Lewis was inducted into Alpha Omega Alpha and served as his Chapter's president. Later that year, he became the first African American to teach at the University of Chicago, where he was a noted expert in immunology. In 1926, Lewis was among the first to receive a Guggenheim Fellowship Award for study abroad and conducted research at the University of Basel, Switzerland. He continued his career as a research scientist and physician at Provident Hospital in Chicago, working until he died at the age of 98.
Dr. Lewis was a man of many firsts. He was the first African American inducted into Sigma Xi (1913), Phi Beta Kappa and Alpha Omega Alpha (1917). He was the first African American in the world to hold both an MD and a PhD and the first to join the University of Chicago as a faculty member. He also later worked for the U.S. military as a researcher and worked to aid the people of Ethiopia.
At Saturday's event, Lewis will also be recognized for his work as an activist and mentor who supported and championed the early careers of a number of prominent African Americans, from dancer Katherine Dunham to University of Chicago professor Dr. James E. Bowman, father of Senior Presidential Advisor Valerie Jarrett. "I would be hard pressed to name any prominent black student or faculty member who didn't benefit from Lewis' support," says Bart Schultz, director of the Civic Knowledge Project, sponsor of the event. "He had a terrific impact as a scientist, but as a person, he was also remarkable."
The event will also look at Lewis' impact on the culture of the University of Chicago itself, and network of support he created at a time when many students were confronting racism. "While he was never tenured, and that remains a question, Lewis became a catalyst for promoting diversity at the University of Chicago," Branch says. "His achievements had a far reaching impact." Among them, says University of Kansas Medical Center Professor and event speaker Christopher Crenner, Lewis became the "bridge" between the University and Provident Hospital, the first black-owned and operated hospital in America. "He was the only professor to work in both places," Crenner says. "He was a pioneer in many respects."
A highlight of the event will be the unveiling of a specially-commissioned oil painting of Lewis, which will be donated to the Smithsonian's National Museum of African American History and Culture, scheduled to open in Washington, D.C. in 2016. Representatives from the Smithsonian will be present for the unveiling.
Despite Lewis' lifetime of "firsts," he remains something of a mystery, says researcher Robert Branch II. "He is virtually unknown, not just within the University, but to the whole world. That's why I wanted to be part of this, to finally give him his recognition. This is the greatest unknown story of the greatest unknown medical and African American pioneer of the 20th century."

For more information: UChicago Diversity Project
Read about the event: "Life, legacy of 'greatest unknown medical pioneer' celebrated,'" Chicago Sun Times (2/22/15)

AΩA catalogue of members from 1922; Dr. Lewis in 1922
Last modified: 2/23/2015
Updated on September 28, 2017.